Publisher
Disney Interactive Studios
Developer
Avalanche Software
Genre
Action/Adventure
Website
www.disney.com/Infinity

Release
September 2014

Preceded By
Disney Infinity 1.0

Followed By
Disney Infinity 3.0

Platforms
Nintendo Wii
Nintendo Wii-U
Xbox 360
Xbox One
Playstation 3
Playstation 4
PC
Mobile

Pricing
Starter Pack:
$74.99
Play Set Pack:
$34.99
Character Figure:
$12.99

Figure 3-Pack:
$29.99

Power Disc Pack:
$4.99
ESRB Rating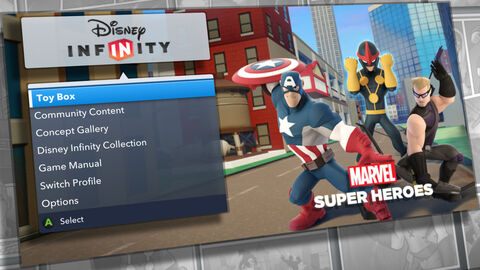 Disney Infinity 2.0 is the second Edition, and includes a number of Play Set Games, Character Figures, and Power Discs based on Disney and Disney•Pixar franchises. This release also includes additional content based on Marvel Studios franchises for the Avengers, Guardians of the Galaxy, and Spider-Man.
Games
There are three Marvel Super Heroes Play Set Games for this Edition. As with Play Set Games from the prior edition, only[1] Character Figures from the corresponding franchise can be used in each.
For the first time, there are also four Toy Box Games. Any Character Figure from the corresponding studio(s) may be used in each.
Assault on Asgard

(Marvel)

Brave Forest Siege

(Disney, Disney•Pixar)
Escape from the Kyln (Marvel)

Stitch's Tropical Rescue

(Disney, Disney•Pixar)
Each are sold separately, although some are also available as part of either the Marvel Super Heroes or Toy Box Starter Packs.
Character Figures
There are a total of 31 Character Figures for this Edition:
Typically, only the figures for a specific franchise can be used in each Play Set Game. However, Marvel Games for the 2.0 edition include a number of "Crossover Coins" for certain characters of other Marvel franchises. Collecting all ten (10) of these coins within a Play Set Game allows the figure pictured on the coin to "crossover" to the Play Set Game for the franchise where the coins were collected. As with the 1.0 edition, all 2.0 Character Figures can be used in the Toy Box.
Power Discs
There are 85 Power Discs for this Edition, including a number of rare discs exclusive to some retailers. Hexagonal Power Discs can only be used in the Toy Box, while Circular Power Discs can also be used in Games.
Toy Box
Disney Infinity 2.0 includes a number of Prebuilt Toy Box Worlds; some of which are available by default, while others can be unlocked during game play. These can be edited and saved as new Toy Boxes.
Notes
The only images that should be placed in this category are product images, and not in-game screenshots (with limited, notable exceptions, such as the Toy Box Launch).
Gallery
Videos
References
↑

Except as noted via "Crossover Coins".
Subcategories
This category has the following 3 subcategories, out of 3 total.
Pages in category "Disney Infinity 2.0"
The following 61 pages are in this category, out of 61 total.
Media in category "Disney Infinity 2.0"
The following 61 files are in this category, out of 61 total.