Publisher
Disney Interactive Studios
Developer
Avalanche Software
Genre
Action/Adventure
Website
www.disney.com/Infinity

Release
August 2015

Preceded By
Disney Infinity 2.0

Platforms
Nintendo Wii
Nintendo Wii-U
Xbox 360
Xbox One
Playstation 3
Playstation 4
PC
Mobile
Apple TV (4th Gen)

Pricing
Starter Pack:
$74.99
Play Set Pack:
$34.99
Character Figure:
$12.99

Light FX Figure:
$14.99

Power Disc Pack:
$14.99
ESRB Rating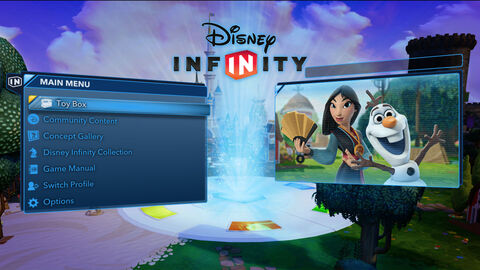 Disney Infinity 3.0 is the final Edition, and includes a number of Play Set Games, Character Figures, and Power Discs based on Disney, Disney•Pixar, and Marvel Studios franchises. This release also includes additional content based on Lucasfilm (Star Wars) franchises: Twilight of the Republic, Rise Against the Empire, and The Force Awakens.
Play Sets and Games
There are five Play Set Games for this Edition, along with a Toy Box Game and two Toy Box Expansion Games. Each are sold separately, although some are also available as part of a Star Wars Starter Pack. The Starter Pack for Apple TV also includes an MFi (Made For iOS) controller, and a Disney Infinity Base that connected via Bluetooth[1]
The Toy Box Expansion Games for this edition include Toy Box Speedway and Toy Box Takeover, both of which are "true" Toy Box games, as there are NO character restrictions - any Disney Infinity Character Figure may be used in either game.
Character Figures
There are a total of 53 Character Figures for this Edition, including seven Light FX Series figures. This includes Character Figures for the Play Sets, as well other Disney, Disney•Pixar, and Marvel franchises. Typically, only the characters for a specific Play Set franchise can be used in each Play Set. However, Star Wars Play Sets for the 3.0 edition include a number of "Crossover Coins" for certain characters. Collecting these coins within a Play Set allowed the character pictured on the coin to "crossover" to the Play Set for the franchise where the coin is collected. As with prior editions, any Character Figures can be used in the Toy Box.
Power Discs
There are 29 Power Discs for this Edition, including a single rare/exclusive D23 King Mickey Power Disc. Unlike prior editions, the 3.0 edition Power Discs were not sold in blind packs of two, but in blister packs of four that both contained and showed a specific set of discs. These were presented as:
The Good Dinosaur
Marvel Battlegrounds
Star Wars: Twilight of the Republic
Star Wars: Rise Against the Empire
Star Wars: The Force Awakens
Tomorrowland
Zootopia
Note: Hexagonal Power Discs can only be used in the Toy Box, while Circular Power Discs can also be used in Play Sets.
Toy Box
Disney Infinity 3.0 includes a number of Prebuilt Toy Box Worlds available from the "Toy Box -> New" menu, and can be edited and saved as new Toy Boxes.
Gallery
Videos
References
↑

As Apple TV doesn't support external USB devices.
Subcategories
This category has the following 3 subcategories, out of 3 total.
Pages in category "Disney Infinity 3.0"
The following 4 pages are in this category, out of 4 total.
Media in category "Disney Infinity 3.0"
The following 21 files are in this category, out of 21 total.