ATTENTION PLEASE!

All online services for Disney Infinity have stopped on 3rd March 2017!

While console versions can still be downloaded from Sony, Microsoft and Nintendo stores, digital versions for PC, Apple TV, and mobile are no longer available. Community content, online multiplayer, linking to and logging in with a Disney account is no longer possible. However,...
Wiki Community
to track your contributions.

Frequently Asked Questions
News
More news articles can be found here.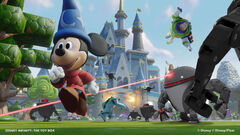 In the Toy Box, players can create their own games by combining Character Figures and Power Discs from any franchise, as well as Gadgets and other toys unlocked from Game Pieces and in the Toy Store.