Incredibles

Studio
Disney•Pixar
Franchise
The Incredibles
Model
INF-2000001
Game Type
Play Set Game
Genre
Combat
Characters
Mr. Incredible
Mrs. Incredible
Violet
Dash
Syndrome
Infinite Mr. Incredible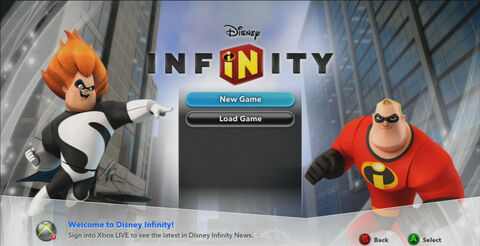 Incredibles is one of three Play Set Games available with the Game Piece from the Disney Infinity 1.0 Starter Pack.[1] Syndrome is out for revenge again! Gather intelligence, analyze Syndrome's technology, and learn to use Zero Point Energy in an epic final battle over downtown Metroville.
Character Figures
Only the following Character Figures may be used.
Unlocks
During game play, a number of items can be unlocked in-game, which will also unlock them for use in the Toy Box[2]. These include:
Cast Members
Enemies
Buildings
Packs and Tools
Vehicles
Music, Skydome and Terrain
When not overridden by the Boom Box or other toy with its own music, using the Metroville Sky skydome causes the Boom Box music "Metroville" (aka "Saving Metroville", track 17 on the Incredibles soundtrack) to be played. This can be heard in "The Incredibles" movie near the end where they've arrived in Metroville and exit the motor home.
Vault
The Incredibles Play Set Game includes a Vault, which requires each of the Character Figures to unlock. Once unlocked, "Metroville Toy Box" is added to the list of Prebuilt Toy Box Worlds.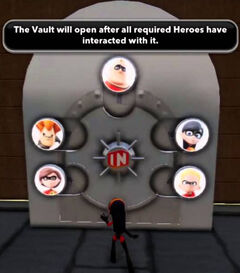 Reaching the Incredibles Vault (spoilers):
The Vault for the Incredibles Play Set Game is located on top of a building at the edge of the city, near the island across from where Edna Mode first lands. To reach it, the player only needs to complete enough of the introductory/tutorial missions to obtain Mr. Incredible's Sports Car and unlock the gated area at the docks.
Gallery
Videos
References
↑

It was the only time more than one Play Set Game was included with a single Game Piece.

↑ In Disney Infinity 2.0 and 3.0, these can be unlocked in the Toy Store by placing the Game Piece on the Disney Infinity Base.