Toy Story In Space

Studio
Disney
Franchise
Toy Story
Model
INF-2000004
Game Type
Play Set Game
Genre
Exploration
Characters
Buzz Lightyear
Jessie
Woody
Infinite Buzz Lightyear

In the Toy Story In Space Play Set Game, help Buzz, Jessie, and Woody save the aliens and stop the evil Emperor Zurg!
Character Figures
Only the following Character Figures may be used.
Unlocks
During game play, a number of items can be unlocked in-game, which will also unlock them for use in the Toy Box[1]. These include:
Cast Members
Enemies
Note: There are also "Mini" and "Giant" versions of each.
Mounts
Packs and Tools
Buildings and Set Pieces
Music, Skydome and Terrain
When not overridden by the Boom Box or other toy with its own music, using the "Infinity and Beyond" skydome causes the game to play the Boom Box music "Alien Emperor Zurg".
Vault
The Toy Story In Space Play Set Game includes a Vault, which requires each of the character figures to unlock.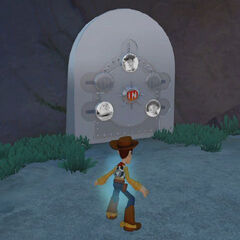 Reaching the Toy Story In Space Vault (spoilers):
The Vault for the Toy Story In Space Play Set Game is located in an open area to the left of the Shield Tower. It can be reached once the player has completed the mission for the opening cut scene and is able to move about the game freely.
References
↑ In Disney Infinity 2.0 and 3.0, these can be unlocked in the Toy Store by placing the Toy Story In Space Game Piece on the Disney Infinity Base.
Videos